WORKING PROCEDURES

is always at your service. To start with, we are very easy to reach. Whether you call (0031165-320189), fax (0031165-317851), visit (Industrieweg 2K, 4731 SC, Oudenbosch), e-mail or ask us for an quotation, an arrangement is easily made.

Of course you can also always ask us for advice when you want to know what is the best way to treat your product. If you have then decided to choose for us, there are two possibilities. Either you can bring your product yourself, or we pick it up for you. We have a truck to our disposal.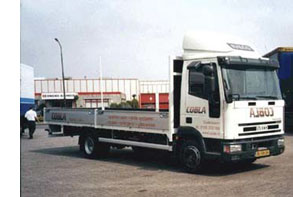 Of course we treat your product with the greatest care. We do our job and make sure your work is ready on the time we agreed. Naturally with a guaranteed quality. By using pallets and other protecting packing materials (foam, plastic and cardboard), we make sure your product will be protected during transportation. Again you can choose if you want to pick up your product yourself or want us to bring it for you.